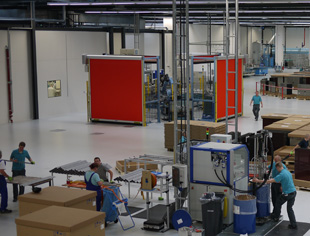 On July 21, AMAT announced that it would 'restructure' its SunFab business. 
Last week's Part 1 of Sunset for AMAT's SunFab considered the broader industry context in counterpoint to the official reasons provided for the closing of the SunFab business.  
AMAT blamed competitive pressures from crystalline silicon, government policy uncertainty, capital availability constraints and the speed of utility-scale adoption. What wasn't observed was that the PV market was blossoming. Ongoing cost reduction and performance improvement are de rigueur in the PV marketplace. Entering the PV market with a new technology and then not keeping pace with these decades-long trends is not a fault of the market.
In Part 2 of Sunset for AMAT's SunFab, strategic issues are examined that may have been the biggest contributor to the ultimate demise of SunFab thin film solar business.
AMAT's high equipment price tag and low product conversion efficiency issues arguably served to expose the underlying weaknesses of the SunFab business proposition. Cost and efficiency, though, were not necessarily the causal agents themselves. Rather, there are four core factors that appear to have conspired together against SunFab:
Corporate diversification during semiconductor downturn
High quality equipment legacy
Big Iron marketing
Customer selection
Explicitly attempting to modify user behavior
Carrying the Corporate Flag through a Downturn
With a downturn in the semiconductor industry, then exacerbated by the challenges of the global financial crisis, the SunFab acquisition came just in time for some positive corporate news at AMAT. From 2007 through 2009, overall AMAT net Sales and Orders halved and Income dropped precipitously into the red. Considering that the SunFab a-Si thin film and other Energy businesses added over $1 B in 2009 sales (25% of the total), the drop in sales in the other AMAT business units was even more dramatic during this period. In so doing, however, this business unit also contributed to more than tripling the loss in 2009. Having risen to the top of the organization's public image, the SunFab business now represented the biggest cost problem. 
AMAT Financial Results
Fiscal Year
2007
2008
2009
 
(In millions)
New Orders
$9,677
$9,155
$4,097
Net Sales
9,735
8,129
5,014
Net Income

$1,710

$961
$(305)
Even with the contribution to the loss, SunFab was the most positive revenue news in the 2009 AMAT Form 10-K Annual Report: 
New orders decreased from fiscal 2007 due to lower demand for semiconductor equipment from memory, foundry and logic chip manufacturers, partially offset by increased demand by LCD customers and, beginning in the first quarter of fiscal 2008, the recognition of orders for Applied's SunFabtm Thin Film Line for manufacturing solar panels.
 SunFab had little choice but to move to front row center at AMAT and look, act and feel like the rest of AMAT's business units. If a different strategy for SunFab was required, or an incubation period needed to develop that strategy, the optics on SunFab gave it very little flexibility.
 At a time when the Semiconductor industry was in a severe downturn, AMAT featured its solar strategy. SunFab faced high external visibility. Press Releases assured the new customers and the analysts by proclaiming "Solar module and semiconductor manufacturing are closely related". Even if that statement were true, however, certainly the markets are dramatically different. SunFab needed to act just like a semiconductor equipment business at AMAT as it shouldered the corporate Investor Relations burden, and had little room to conduct itself like a nimble start-up in its dynamic new market.
AMAT Equipment Legacy
How could a successful legacy of high quality equipment earned through decades of experience of innovation be a causal agent for demise? As Clayton Christensen observed in Disruptive Technologies: Catching the Wave:
"The research shows that most well-managed, established companies are consistently ahead of their industries in developing and commercializing new technologies … as long as those technologies address the next-generation performance needs of their customers. However, these same companies are rarely in the forefront of commercializing new technologies that … appeal only to small or emerging markets."
AMAT is a well-managed, well-established and highly competent manufacturer of processing equipment. AMAT's core customers are the biggest names in the well-established semiconductor and flat panel display industries. The AMAT solar strategy was promoted to the investment community as a core corporate endeavor. From a business perspective, however, virtually everything about this solar situation was new to AMAT – and was also new to AMAT's customers.
The key success factor for SunFab wasn't about processing technology. Rather, the key success factor was to develop demand for end customer solutions and build an entire market infrastructure to supply that demand which, in turn, could utilize equipment that AMAT could supply. The actual strategy was arguably backwards and all about technology push and not market pull.
Big Iron Marketing
Headlines once read "Applied Materials bags another $1 billion SunFab customer."
AMAT leveraged and was bound by its high visibility corporate commitment in its sales approach – buy from the big and proven equipment manufacturer.  The AMAT customers didn't need an equipment solution, however, they needed a customer solution complete with a vibrant market for their customers' products.
Unlike its other business units, AMAT was not selling a new processing technology to existing customers in existing markets. Rather, AMAT was promoting a new technology in a rapidly developing market arena that was new to the corporation. AMAT was promoting this new technology to customers that were new to AMAT and were themselves new market entrants that hoped to introduce a new product to a market unfamiliar with the proposed solution.
Who knew what the new market needed?
Selling a new fab to new market entrants into a market that has not yet accepted the end product may have been an overwhelming challenge. Predictably, this situation produced high levels of start-up expenses and intense R&D pressure at SunFab. Like static electricity seeking ground, any anxiety at industry newcomer SunFab customers would be directed at the largest ground around – AMAT – and pressure to perfect the product accelerated. An approach to sell big iron must avoid the dangers that are seen all too often in the cyclical auto industry.
According to the 2009 Annual Report:
The (AMAT Energy and Environmental Solutions Segment) operating loss of $242 million in fiscal 2009 increased from $183 million in fiscal 2008 due to an increase in RD&E expenses and unfavorable gross margins associated with initial SunFab line start-ups, offset in part by cost control initiatives
Customer Selection
Based upon their actual customer successes for SunFab equipment, the AMAT sales pitch appealed to PV market newcomers with deep pockets. A typical sales announcement included the statement
"Applied Materials is very pleased to have the opportunity to work with (The Latest Newcomer) on its first solar venture…"
 In a new product introduction or a new technology introduction, isn't there an advantage to working with experienced customers?
Wasn't SunFab taking on massive risk with this customer selection and the orientation that it provided to these customers? What is the risk of appealing to a customer group with deep pockets and little or no market experience? Will they be more or less anxious once they start spending a lot of money and wait for market returns? What is the risk when you are pursuing inexperienced customers in a fast-moving market with a new and unfamiliar technology?
Modifying User (and Industry) Behavior
Add to this risk of dealing with novice customers the AMAT vision of the biggest ever modules. Arguably a classic case of 'the product doesn't fit', every step in the chain needed to adapt. "Applied's 5.7 m2 modules are four times bigger than anything we've ever tested," said Feridoon Sergizzarea, president/CEO of TÜV InterCert. Of course, most SunFab owners ended up selling largely 1/4 panels that were the same size as typical solar panels.
Rather than fit in, newcomer AMAT challenged the industry to be "rethinking the business model for solar installations." Business plans that rely upon changes to user behavior, however, take time to be accepted. If the product doesn't fit the market, should you try and change the product or the market?
AMAT trumpeted its 5.7 m2 panel to a commoditizing industry that had long been standardizing on a form factor that was one-eighth the size. Given its dark color, this was a black elephant that attempted to change the behavior of an entire industry. Industry logistics and crews that were trained to handle, install and maintain industry standard module geometries were not equipped to handle the massive AMAT panels. The larger modules also faced new production issues within SunFab customers. Failures in larger package can also dramatically increase scrap costs.
Piling Business Risk upon Business Risk
AMAT is an equipment supplier whose core revenue growth comes from selling more equipment. With SunFab, they were caught in multiple binds. The faster its initial customers could find success, the faster new orders would be placed for SunFab. Anything which delayed that success was magnified within the SunFab business unit. As long as the customers were not successful, they also consumed more and more attention. With resources and attention turned increasingly inward to assist initial customers, they could not be focused on driving new business.
AMAT ended up trying to sell a Cadillac – with giant modules rather than giant fins – to an increasingly small community of Cadillac customers that were starving for fuel.
Cadillacs with fins need lots of fuel.