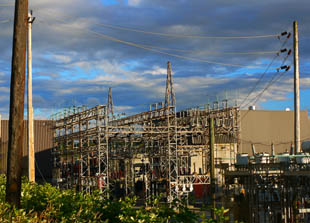 By Adrienne Baker, Director of Canadian Clean Energy Conferences
With the Green Energy and Economy Act (GEEA) last May, the Ontario government launched the most ambitious feed-in tariff (FIT) program for renewable energy development in North America. The combination of stable prices under 20-year contracts for renewable sources is resulting in a groundswell of green energy development in the region. Around 600 renewable energy developers have received FIT contracts since March, which translates to roughly 2600 MW of generation capacity. Now with the first round of FIT projects underway, and many awaiting approval, developers and suppliers are looking for clarity on the region's ability to deliver robust and sustainable wind and solar supply chains.
The other important goal of the GEEA is to generate 50,000 jobs for Ontario in three years. The FIT program includes specific domestic content requirements as a means of job creation and establishing Ontario as a green manufacturing hub. Wind projects must reach a 25% domestic content level now, bumping up to 50% post-2012. For solar, the requirement is 50% currently, jumping to 60% next year. The concern for renewable energy developers is that the capacity simply doesn't exist in Ontario today to meet the increased 50% and 60% thresholds. Suppliers too are wondering who is going to step into the market to provide Ontario-made renewable energy technologies and services.
"The challenge is our ability to meet those domestic requirements based on the current capacity within the supply chain in Ontario as well as the ability of suppliers to get established and begin rolling out product in time for us to meet our timelines," explains David Timm, Vice President of Strategy Affairs at International Power Canada, which currently has two wind projects approved under the scheme.
"We have not seen enough announcements from solar equipment manufacturers to support the volume of FIT contracts awarded – be it solar module manufacturers or racking companies, etc.," comments Robert Miller, Country Manager for Kingston-based Axio Power, which has been awarded 90MW of distributed, ground-mounted solar power projects under FIT to date. Axio Power is partnered with Canadian Solar which expects to establish a module manufacturing facility in Ontario by the first quarter of 2011. "I am still anxiously awaiting announcements where we see other manufacturers in the supply chain commit to the province; we all want to see the jobs and economic benefits for Ontario materialize," Miller adds.
If You Build It, Will They Come?
SunEdison, which recently opened a Toronto office, is actively pursuing both rooftop and groundmount opportunities in the province and is exploring the idea of bringing tracking technology to Ontario. "We've created the first utility-scale groundmount solar farm in Ontario called First Light SunE Sky, and more recently we've partnered with Scarborough-based Samco Manufacturing, to produce racking equipment for our growing number of solar rooftop projects," reports Jason Gray, Director of Canadian Operations for SunEdison.
Heliene Canada is set to begin manufacturing solar energy modules out of its new Sault Ste. Marie-based facility in September and is planning to increase capacity by 50% in May. This follows the expected release of the first round of Economic Connection Tests (ECTs) from the Ontario Power Authority, the scheme administrator, to determine whether FIT projects awaiting approval can move forward. Heliene President Martin Pochtaruk is eager to see other solar suppliers announce plans to establish a presence in Ontario. "The idea of setting up the GEEA is not to generate power but to generate jobs," he points. "So if we provide people with a contract but we don't set up the supply chain, it means we have collectively failed."
More than 250 renewable energy projects are currently awaiting ECT approval which means they were either deemed not economically viable under existing transmission and distribution capacities or they were stalled due to other technical issues. The OPA will begin re-evaluating these projects through the ECT test in early August and determine whether expansions to the grid change their viability. Suppliers and developers alike would like as much clarity as possible in advance. "As an investor and an entrepreneur, I need to understand what capacity to get ready for," says Pochtaruk. "The issue will be if everyone wakes up then and says we need panels for tomorrow, and that will not work; it will be like pretending to buy your best turkey ever at 6pm on thanksgiving night."
Results from the first ECT tests are expected in the first quarter of 2011. Bob Chow, Director, Transmission Integration, Ontario Power Authority, will be presenting on the status of the FIT connection assessment process and providing more detail on the ECT process at the Ontario Feed-in Tariff Supply Chain Forum in Toronto on October 5-6. This event will bring together FIT project developers, renewable energy manufacturers and suppliers to discuss the challenges and opportunities for building the region's wind and solar supply chains. "While the OPA has played an important role in the upfront work related to renewable generation development, I'm looking forward to seeing the real work that is required to bring the developments to life – thanks to the hard work of many of the people attending this conference," comments Chow.
Is it sustainable?
Understanding future capacity and the best locations for FIT projects in terms of guaranteeing connectivity is critical for renewable energy developers. So is partnering with manufacturers and suppliers who are able to deliver the domestic content specifications that developers are bound to when the sign-on with the OPA.
"Local content requirements spurs action on the part of developers to work with suppliers that can deliver on those specifications," comments International Power Canada's Timm. "Because, at the end of the day, the contractual obligation with the OPA lies with the renewable energy developer so that drives us to work with suppliers that provide assurances that they can meet those domestic content levels." International Power Canada has chosen to work with Vestas on its 49 MW Point Aux Roches project and with GE Energy on its 27 MW Plateau project.
The other question is whether Ontario can sustain this unprecedented level of growth in renewable energy development and create a long-term market. "My fear is that it will not last – we need it to last at least five years," says Heliene's Pochtaruk. He mentions Spain, where Heliene has a plant, and the relative ease of selling into the French market following the Spanish government's cancellation of renewable subsidies. The same proximity to other major markets doesn't exist in the same way in Ontario, he points.
Still, John Kourtoff, CEO of Trillium Power, an offshore wind developer, sees tremendous potential for Ontario wind and solar manufacturers to export to the US. He thinks the GEEA will act like a catalyst for a major shift away from traditional energy sources towards renewables. "The Green Energy and Economy Act is changing the entire landscape for renewables not only in Ontario but globally," he says. "Ontario was put to sleep by the nuclear and fossil fuel industries for much of the past 100 years and now we are resetting and rebuilding our economy around renewables." Kourtoff expects that more announcements about manufacturers setting up shop Ontario and the creation of new jobs are just around the corner. "For Ontario, the Green Energy and Economy Act is like sniffing salts – it's awakening the renewable energy giant."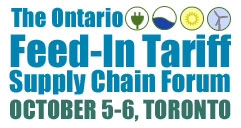 Author's note: All of the experts interviewed for this article will be presenting at The Ontario Feed-in Tariff Supply Chain Forum on October 5-6 in Toronto. They will be joined by +50 other speakers to discuss the challenges and opportunities for building the region's wind and solar supply chains.