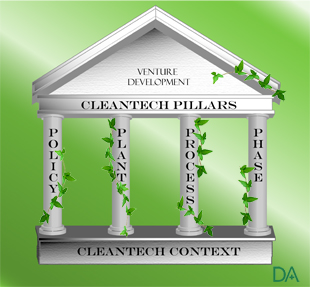 Cleantech is widely anticipated to be the next big wealth creation opportunity.     
Oddly, however, success in Cleantech business investments has been somewhat elusive especially in the venture capital (VC) community. This paradox is true even though Cleantech has had the strong support of a mature VC industry along with motivated equity markets – albeit impacted by the Financial Crisis and global recession.   
Cleantech Pillars Offer Support for Venture Development   
While Cleantech may be more of a theme than an industry or sector, there are contextual commonalities. A new framework has been developed to filter Cleantech contextual elements to better separate potential winning business ventures from more marginal prospects. The Four Pillars (Four P's) of this framework are:  
Before examining these Pillars, an updated overview of Cleantech promises and the ongoing investment debate is warranted.   
Huge Opportunity: The Sixth Wave   
Cleantech has been hailed as the biggest wealth creation opportunity. Ever.     
In 2008 Steven Milunovich of Merrill Lynch was one of the first to link the emergence of clean technologies to part of a larger cycle. In his report The Sixth Revolution: The Coming of Cleantech, he observed that:
"Technology revolutions occur about every 50 years. The current IT age should give way to the leadership of cleantech as the energy infrastructure moves back to renewables."
Cleantech is now widely foreseen as the Sixth Wave of human innovation – following the industrial revolution, and the ages of steam & railways, steel & electricity, oil & the automobile, and information & telecommunications.  
The Russian Economist Kondratiev originally described these long wave cycles in his 1925 book The Major Economic Cycles. Indicators of the end of a long-cycle include the creation and collapse of asset bubbles such as we have seen recently with the Internet and Real Estate bubbles.
Yet, unlike its predecessors, the Cleantech wave can be as much about doing the same thing, just in a more sustainable fashion.
In 2008, Sun Microsystems founder and current Kleiner, Perkins, Caufield & Byers (KPCB) partner Bill Joy stated, "We are at the point of new wealth creation when it comes to green technology." The next year, his KPCB partner Ajit Nazre echoed "that Cleantech is the single biggest investment opportunity of the 21st century."
In April this year, self-made billionaire and poster-child for success in the Fifth Wave's information revolution, Ted Turner claimed that "It's time to say goodbye to coal and oil and replace them with renewable energy – including solar, wind, and geothermal and biofuels… If I were starting a business today, that's where I'd go."   
The promise of these aspirations are already backed up by decades of staggering continuous growth in the solar PV industry; growth unlike anything seen before in any industry.   
Mixed Success, Unclear Focus   
Yet the venture investment track record in Cleantech thus far is at best mixed, and the term Cleantech is a broad catch-all that is neither industry nor sector. There have only been perhaps a dozen or so substantive Cleantech IPO exits after over 1,560 venture rounds and almost $13 billion worth of venture capital invested in the sector from 1995 through to mid-2010 and plenty of walking dead. In March 2009, Scott Sandell of top- tier VC firm NEA brazenly asked, "Is Cleantech Dead?"
While Sandell is a prominent Cleantech investor, there are many who remain strongly skeptical of Cleantech. Notable web investors Peter Thiel (PayPal co-founder, partner at The Founder's Fund and Clarium Capital), and Marc Andreessen (Netscape founder & investor) have made a point of steering clear of Cleantech. As impressive as Thiel and Andreessen's track records have been, however, the next Facebook isn't likely to power the infrastructure requirements for the industrial revolutions taking place in China and India. Even Internet growth record holder Google is hiring solar experts and pursuing its own R&D as well as investing in Cleantech.   
The overall VC industry is currently under a critical eye. Notwithstanding the successes of Thiel, Andreessen and others, there has been harsh fallout from the financial crisis and the generally poor VC fund performance since the burst of the Internet bubble. Even so, Cleantech investing has been on the upswing. Thus, the mixed Cleantech success is confounding given the strong support from a venture capital model refined over five decades as the critical enabler of the Fifth Wave: the Information Revolution.   
The Information Revolution has gone increasingly viral, virtual and social (e.g. Web 2.0). Cleantech, however, is dominated by opportunities which involve material science as well as process and physical technologies.   
One fundamental underlying challenge in Cleantech investing is that Cleantech itself is more of a theme than an industry or even a sector. Fortunately, there do appear to be common business challenges within the theme. The majority of current Cleantech opportunities involve the manufacture of tangible goods delivered through comprehensive supply channels. At this early stage of the Sixth Wave, and arguably by its nature, Cleantech is infrastructure focused.   
Many models have been constructed to evaluate potential venture investments – and to finance and develop them successfully. With a low success rate within Cleantech, however, these guidelines themselves, while valid, appear to require further foundation.    
As Cleantech VC firm @Ventures observed, "VCs need to stop trying to figure out what new investment models work in Cleantech. They need to start figuring out what parts of Cleantech work for the proven VC model." Asked another way: Through what additional lens can we evaluate Cleantech opportunities in order to succeed with conventional venture development models?   
The Four Pillar Framework of Plant, Process, Phase and Policy offers a base of support for the classic Venture Capital model to separate potential winners from marginal prospects.   
Consumerism Yields to Empire Building in the East, Rebuilding in the West  
In contrast to software investment trends, Cleantech investing at this point is more consistent with a VC investment model of the past. Consistent with basic infrastructure developments common in the early part of a Kondratiev long wave, early Venture Capital investments backed physical products, processes and manufacturing.   
Indeed, the first ever Venture Capital start-up investment was for Fairchild Semiconductor who produced the first commercial integrated circuit. The business models that launched the semiconductor industry arguably has more in common with solar cell manufacturers than with today's social media companies.    
Will Consumerism yield to Infrastructure or remain perched atop it?
Growth Consultant and Author David Thomson (Blueprint to a Billion: 7 Essentials to Achieve Exponential Growth) recently observed that we are moving from a consumption-driven eight-year business cycle to an infrastructure-driven business cycle. Thomson's insights were echoed at the start of October by Lawrence Summers, the departing director of the National Economic Council who stated, "the United States consumer (cannot be) the single engine of global economic growth." Such a transition in the shorter-term business cycle to an infrastructure-driven economy is thus aligned with and arguably may accelerate the long wave transition from the Fifth Wave to the Sixth.   
The Four P's: Plant, Process, Phase and Policy   
There are two inner Pillars – Plant and Process – and two outer Pillars – Policy and Phase.
With respect to the inner pillar, Process, there have been many suggestions that Cleantech development cycles may, of necessity, be longer than those for information technology. Yet the Venture Capital industry gave birth to the semiconductor industry – an industry that can make rocket science look easy.
There is no inherent reason why Cleantech Process development should be out of sync with other technology development practices. In fact, Cleantech can learn and leverage much from short, iterative software Process development that integrates customer-driven input with rapid product refinement.    
Cleantech's dominant association with infrastructure underscores the inner Cleantech Pillar of Plant.   
Plant refers to manufacturing plants as well as all of the public and private infrastructure, the physical markets for physical goods and the associated material and equipment supply chains.   
Energy, the core of Cleantech, and its transmission and distribution represents some of mankind's greatest infrastructure creations. The replacement cost of aging power transformers alone in the North American grid is estimated to be in excess of $200 billion. At the same time, though, the 3,100 or so US electric utilities are estimated to produce close to 40 percent of the world's greenhouse gases.     
Problem – greenhouse gas emissions – meet opportunity – massive aging infrastructure!   
A fix to the electric grid, however, is not so easy to implement.   
Flanking the Cleantech Pillars of Plant and Process, we have the contextual Pillars of Policy and Phase.   
Commenting on the US energy policy and the regulatory framework, GE's CEO Jeffrey Immelt recently stated that "What we have today (in the US) is stupid." While the US policy framework may be a structural impediment, Germany's Feed-in-Tariff innovation has been an enabling catalyst for clean energy. In this blunt statement, Immelt underscored the importance of the Cleantech Pillar Policy.   
Governmental regulation and overall Policy is critical to enabling many Cleantech opportunities. Local Policy can have tremendous enabling and restrictive influences on global Cleantech opportunities.    
The final Pillar, Phase, refers to Industry life-cycles: What is the life-cycle of the target industry and how accessible is the addressable market? While other models – such as Porter's Five Forces – are commonly used to characterize a single industry, Cleantech opportunities are spread across many, typically aging, industries. Many of the largest Cleantech targets are in industries that have entered the maturity or decline Phase.   
The latter stages of an industry life-cycle are more associated with commoditization and marginal differentiation than they are with high adaptation or rapid adoption of outside technologies. There may be widely recognized problems and opportunities – even by the existing industry players –but whole industries in this Phase may be slow or structurally restricted from reacting.    
Challenges related to industry Phase can be compounded by Policy. This is particularly true when mature or declining industries also have regulatory hurdles to new technology adoption. Thus, while an industry's problem may be huge and well accepted, the target industry's life-cycle Phase may create structural impediments to rapid uptake of new Cleantech advancements.   
There are a number of strategies for dealing with issues of Phase. If adoption intransigence from existing players cannot be overcome, it may be necessary to actually build out sub-sector ecosystems.   
Each of these Four Pillars of Cleantech Context will be examined more closely in follow up posts.
Updated November 7, 2010