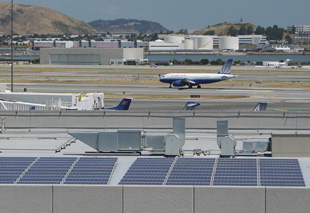 In manufacturing, viability hinges on production yield. In energy devices, viability hinges on conversion efficiency.  
Less is less  
The notion that higher conversion efficiency is better than lower efficiency is intuitive. With higher efficiency, more is produced from the same resource. Higher efficiency does have higher inherent value.
What is often counter-intuitive, however, is that low-price scenarios can produce dramatic economic impact from efficiency differences. As PV module prices drop, tolerance for lower efficiency solutions plummets.
In the PV Industry an oft-promoted premise is that "(Thin film panels) are not as efficient as crystalline cells, but generally cost less to produce." Such promotional statements suggest a simple and consistent trade-off between efficiency and cost.
This is misleading.
The relationship of cost and efficiency is not consistent at different price levels. As part of an overall PV system, PV module efficiency impacts the comparative cost per watt of other system components.
The Catch-22 is that when PV modules drop in price, the lower performing alternative faces greater comparative price pressure than it did at higher prices. More for less (in terms of PV module pricing) forces even more from less (in terms of pressure to improve module efficiency).
Two reasons
In photovoltaics especially, there are two primary reasons for the compounding impact of efficiency on economic viability.
First, photovoltaic devices have relatively low energy conversion efficiencies. With low energy conversion efficiency, small absolute differences in efficiency can result in large proportionate differences. A one percent change in efficiency from 14 to 15% PV conversion efficiency, for example, represents a 7% value increase.
Second, in a PV system the primary energy conversion is done at the cell level within the PV module. PV modules require significant additional infrastructure and equipment to provide a complete PV generation system. As Ken Zweibel of the GW Solar Institute has explained, "Efficiency matters for reducing the impact of area-related and one-of-a-kind BOS costs and for reducing the cost of the module itself."
In a PV installation, there is the PV module and there is 'everything else'. That everything else is commonly referred to as Balance of System, or BOS. Such a simple label, however, underplays BOS sophistication and – more importantly for this discussion – its cost impact. The cost per watt for mounting hardware, electrical wiring, site preparation, site area and even inverters are all influenced by PV module efficiency.
PV modules currently represent about half of the initial system costs and the BOS the other half. As PV module prices drop, and modules become seemingly less important economically, the overall PV System costs actually becomes increasingly sensitive to module efficiency. This is due to the impact of efficiency and its cost per watt leverage on the BOS.
As Shyam Mehta of Greentech Media observed, "Conversion efficiencies affect both balance-of-system costs as well as viability in space-constrained markets." Similarly, Zweibel's insights included that at 2009 BOS cost levels, "a 5% (efficient) module costing nothing would have the same system price for residential rooftops as a 15% module costing  about $1.50/Watt."
A similar relationship can be illustrated for the BOS influence by assessing the value of a 10% module at different 15% module price levels.  
If the mounting hardware for the two modules is the same, for example, then the value of the 10% module must allow for the impact of the lower efficiency on the identical mounting cost. To reflect the value discount, the 10% module price should be lower on a cost per watt basis. Ironically, value-based price discounting can make it appear that the less efficient module is closer to grid parity as it will have a lower price per watt. This is not the case, of course, as the full system cost must be assessed.
As prices drop, lower efficiency modules require greater price discounting
Different efficiency levels produce a non-linear influence of BOS costs on module value. In this example, when the 15% module is priced at $3 per watt, a comparable 10% module has a 22% lower value of $2.33 per watt. If the 15% module is priced at $1.50, the value of the 10% module is 44% lower. Should the 15% module drop to $0.67 per watt, a competing 10% efficient module has zero economic value. Below that price, the value of the 10% module would be negative and the customer would need to be compensated for the efficiency compromise.
Like BOS costs, maintenance costs are also affected by module efficiency, though they are not included in this illustration. To achieve a given output with lower efficiency, more modules with more module area are required. In terms of maintenance, this leads to more potential points of failure and more area to clean and maintain – all spread out over a larger area. 
Implications
As observed in the post Sunset for SunFab, "competitive pressures from crystalline silicon" were cited by AMAT as a primary reason for discontinuing their thin film equipment product line. Nine percent efficiency amorphous silicon (a-Si) modules from AMAT's SunFab were competing with multicrystalline modules reaching 15 percent efficiency and higher.
Lower prices in crystalline modules achieving higher efficiency put amorphous silicon alternatives between two jaws of an economic vise. While crystalline and a-Si technologies are not identical and do behave somewhat differently under differing conditions, the relationship of efficiency on PV economics is ever present. Improvements in crystalline efficiency and reduced prices have put intense price pressure on lower efficiency module alternatives.
Similar economic relationships can be observed between higher efficiency monocrystalline modules and multicrystalline modules. A drop in module pricing helps explain renewed momentum of high efficiency monocrystalline approaches.
Likewise, such economics of efficiency relationships applied to polysilicon quality during the recent PV industry polysilicon shortages. As polysilicon prices drove up cell and module costs, overall PV economics were less sensitive to polysilicon quality. At high polysilicon prices, cheap seemed not so bad – if it was cheap. With high quality polysilicon now cheaper, the converse is true. Polysilicon quality is more important at low prices and cheap polysilicon must now be good polysilicon.