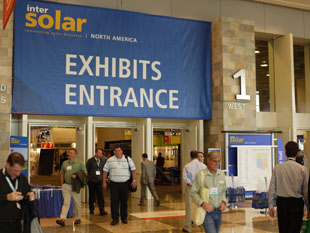 The Intersolar Europe Exhibition this past June posted big attendee and exhibitor numbers. Last week's Intersolar North America was also well attended, though it is still at a fraction of its European counterpart. Oddly, however, some of the biggest winners thus far in the North American PV market chose not to exhibit at Intersolar North America just as the North American market is poised for substantial growth.
At this year's Intersolar Europe – the world's largest solar exhibition – module exhibitors were seemingly everywhere. In fact, there were more (653) exhibitors promoting PV modules at Intersolar Europe, for example, than the total number of exhibitors (580) of all products at Intersolar North America. As with the high number of PV module exhibitors, the end-market focus of Intersolar Europe was reinforced by the number of exhibitors featuring PV inverters (289), which were equivalent to about half of the total Intersolar North America exhibitors.
Gauging from Intersolar Europe participation, there appeared to be no shortage of marketing dollars to promote PV modules and inverters. With 3.8 GW worth of PV installations in Germany alone in 2009, the largest market in the world, suppliers choosing to apply their marketing spend at Intersolar Europe, and in Munich especially, makes sense.
What does not make as much sense, though, is why some of more successful PV module and inverter companies in the California market are shy about participating at Intersolar North America. At Intersolar North America, knowledgeable PV industry veterans were projecting as much as 3 GW of PV installations in the US in 2011. That should represent a pretty significant emergent market opportunity and would almost certainly make the US the world's second largest PV market next year.
Yet, as big and successful as the US market is becoming, Intersolar North America did not attract some of the most successful current module and inverter suppliers within the North American market. Comparing attendance figures to the supplier list for California Solar Initiative (CSI) projects in 2010, seven of the top 15 PV inverter suppliers including one of the top five, did not attend Intersolar North America.
PV module representation was even more curious than PV inverter attendance. In the case of PV modules, only seven of the top 15 CSI 2010 suppliers attended, while three of the largest players were absent. Moreover, the module market is more competitive than the PV inverter market, with six manufactures crowded between 8% and 13% market share apiece. In a tighter market, more marketing efforts might be expected though the participation numbers suggest otherwise.
The US economy is still in a worrisome state and this may help explain the fickle attendance at Intersolar North America. But, the US is the land of the great consumer and of the great marketer; the US is a market where marketing is expected and typically rewarded. Moreover, marketing and sales investments are supposed to drive new sales.
Marketing budgets do have limits, of course. Marketing budgets of lesser successful participants would normally be expected to be more restricted than the budgets of the more successful players – yet this was inconsistent at Intersolar. One company that may have had an excuse not to attend Intersolar North America for budgetary reasons was Yingli Green Energy given its large investment in sponsoring this year's FIFA World Cup in South Africa. There was a lot of discussion in the Intersolar aisles about Yingli's FIFA sponsorship. Yingli has developed a reputation as a cost, not necessarily a spend, leader. Yet, cost leader Yingli had a big booth at Intersolar North America barely days after the World Cup had wrapped up. Yingli is definitely investing heavily on building brand. Future CSI market data will indicate how this branding effort has scored.
If the US market takes off as expected, there may be a lot more PV module and PV inverter manufacturers represented at Intersolar North America next year. In the meantime, the upcoming Solar Power International Conference at the Los Angeles Convention Center this October will provide an updated view on who is committing marketing spend on the North American market.