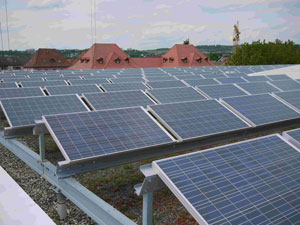 June 30, 2010, Vancouver – Launched last September, Ontario's Feed-In-Tariff (FIT) program has generated a spectacular rush of applications for solar Photovoltaic (PV) and other renewable generation installations.
Two months after the launch, Deutsche Bank endorsed the program by noting, "Two of the most advanced FiTs in our view at present are Germany and Ontario. … We also anticipate significant growth in Ontario's renewable manufacturing industry because of domestic content requirements."
At this month's Intersolar Conference in Munich, the PV industry's largest, Ontario was a focus of industry buzz. Ontario has become the highest priority North American PV market. As Dow Jones Newswires reported, Marc van Gerven, North America Managing Director for Q-Cells – biggest solar-power-plant installer – confirmed, "Ontario is a key market for Q-Cells in North America." Private conversations revealed that many announcements are forthcoming as PV manufacturers move to establish an Ontario presence. The Ontario green rush is on!
The enthusiasm has created its own challenges. In May renewable generation applications exceeded 9 GW, or about one quarter of the pre-existing Ontario generation resources. At that time, Ontario Power Authority (OPA) staff confided that application processing was strained. With over 10,000 PV applications, just 700 had been announced as approved.  Due to processing backlog, deadlines were extended in mid June for meeting the program's Domestic Content requirements.
Paradoxically, the PV industry has been mixed in its embrace of Ontario. Samsung and KEPCO's announced $7 billion commitment did produce considerable fanfare.  But, strong concerns have been expressed over the program's length and novel Domestic Content requirements. Indeed, there are rumors about repeal of the Domestic Content requirements, though this may be wishful thinking. According to a June 17 Wall Street Journal story, "(the OPA) is not concerned about a lack of manufacturing capacity." Even so, there is lobbying against Domestic Content requirements even while some, like Samsung, step forward. At the same time, Dow Jones Newswires stated that, "Q-Cells Van Gerven said his company can live with the DCRs. He said the key to establishing a thriving renewable-energy market in Ontario is stability. "For us, from an industry perspective, we don't like rules to be changed," adding that a stable environment makes project financing easier to secure."
Concerns about Domestic Content extend to whether other jurisdictions will follow Ontario's lead. One top five industry CEO privately questioned whether their company would be forced to "put manufacturing equipment on trailers and drive around to satisfy Domestic Content?"
That same manufacturer, however, is studying global logistics issues. As the industry continues to commoditize and works on greening itself, transportation costs and carbon emissions from shipping raw materials such as glass from end-markets to manufacturing sites and back again are being scrutinized.
Potential ratepayer pushback is another concern. An unrelated May 1 Ontario regulated electricity price rate hike of 12% has not eased PV industry angst. Strong ratepayer resistance has not been the case in Germany, though, which has similar FIT rates and the typical German household pays around $50/yr extra for their FIT. With global energy subsidies of roughly $300 billion annually, Government policy and subsidy already fundamentally influence global energy market behavior. This playing field will never be level.
The Ontario FIT program's goal is to create 50,000 new green jobs to ease the pain of auto industry layoffs. This sounds like a high goal, but Germany has created over 280,000 PV related jobs alone. On June 15, California Gubernatorial candidate Jerry Brown announced plans for half a million green jobs. Similarly, the State of Pennsylvania is promoting 129,000 green jobs. While 50,000 new jobs is a significant number, population adjusted, Ontario's goals are modest compared to Germany's track record or California's promises.
Jobs promised by politicians, however, must be created by corporations. The PV industry is capital intensive with thin margins. After decades of high growth and high expansion costs, many PV players are cash flow negative. While Ontario FIT rates are attractive and contractually committed for 20 years, the program itself is non-evergreen. Applications are only being accepted during a two year trial. This short trial period has created market angst.
Capital investment for a new PV plant cannot be recovered within two years. Moreover, the commoditizing industry operates at large scale in low-cost environments. These environments often feature capital cost subsidies of 50% or more. Unless they can leapfrog the cost curve, new Ontario facilities may be at a competitive disadvantage.
Ontario's Domestic Content requirements may initially create a market with tight supply and commensurate pricing, but the industry is young and growing rapidly. The PV industry in Germany experienced an annualized investment growth rate of 93% between 2000 and 2008. Rather than continue to chase problems of an auto industry in long decline, the Ontario government has made a wise bet to pursue a winning industry that can create a stable economic base.
New plants built to satisfy demand, however, will be at risk of remaining only so long as the Ontario market remains active.
Fortunately, there are underlying considerations that may temper anxiety over market sustainability. Ontario's shift to renewable generation goes back almost a decade. In their 2003 campaign, the Liberal party promised to close Ontario's coal-fired generation plants. Complete closure is on track for 2014. The need for replacement generation has propelled the Green Energy Act.
Prior to the FIT Program, Ontario marched toward renewable generation through the Renewable Energy Standard Offer Program (RESOP). Many large PV projects being installed in Ontario are actually RESOP projects.
Starting with the RESOP, the government has opportunistically leveraged coal plant decommissioning to create green jobs. Ontario was moving towards a green economy ahead of Obama or the financial crisis! In a further nod to Ontario, on June 22 Federal Environment Minister Jim Prentice announced a national plan to close Canada's coal plants.
Uncertainty over FIT program length has to be realistically appraised. The economic length of the program will be longer than two years. Consistent with the OPA's FIT Program Timeline, on June 4, for example, all unapproved project applications above 500 kW were submitted for an economic connection test review. Passing projects will be incorporated into transmission capacity extension plans.
Thus, provisions for project construction timelines combined with electricity transmission expansion planning cycles will extend the program's economic life will beyond the two year trial. Local manufacturing will be supported for years even if no new applications are accepted or approved.
The demand rush will result in a number of factory announcements soon and Ontario's FIT program will be generating headlines and jobs. Expect to see contract, partnership and new facility announcements over the next few months.