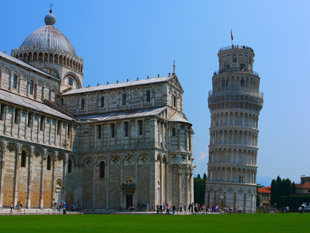 Temperatures in Tuscany were pushing into the high 30s Celsius last week, and industry insiders were reporting that Solar in Italy is hot. By the end of the week, however, the heat wave was starting to subside and apparently so too was the PV market. On Friday, a Reuters article by Svetlana Kovalyova (Italy set to cut solar incentives: Industry sources) brought news of cuts to solar incentives when Italy is on the brink of overtaking Spain to become the world's second largest solar producer.
Prior to 2008, Italy was cited as an incongruous market with attractive FIT rates, especially in Building Integrated PV systems (BIPV), but remained a small market for new installations. Just as Italy's PV market got hot enough for a Toga party in 2008 and 2009, Gianni Chianetta, Chairman of the Italian industry association Assosolare, is advising of PV installation incentive cuts of up to 30 percent in 2011.
The Italian PV industry has become chic enough that Italians can shop for modules at Eco Shop in the Milan fashion district.
According to the May 2010 update from the European Photovoltaic Industry Association (EPIA), Italy has approximately 1.4 GW of solar capacity and was the world's second largest PV installation market in 2009 with 711 MW of new installations. Germany, which is the largest installation market and the country with the installed largest capacity, had almost 10 GW of PV capacity at the end of 2009 including 3.8 GW of new 2009 installations.
These are big numbers, especially compared to the 2009 Spanish market which has the world's second largest capacity. The Spanish PV installation market all but disappeared as a market for new installations in 2009 with only 60 MW of new capacity installed – the equivalent of a single German project. Even as large as it is, PV capacity in Germany still has a long way to go before becoming a major power source. German PV capacity has just exceeded 1 percent of the country's total capacity and recent goals include achieving 5 percent of consumption by 2020.
Last Friday's Reuters report indicates that there will be a three year cap of 3 GW in Italy and a cut of up to 30% in FIT rates. Italy may remain somewhat attractive, but the cap alone will result in flat to modest market growth. As the world is climbing out of the Financial Crisis, a strong and stable market would be exciting for some industries. In the PV industry, however, where the financial crisis appears to have been a small speed bump, flat market growth can be perceived to be the same as a downturn. Then again, just as the tower in Pisa has finally been stabilized after centuries, market stability in Italy may not happen for a year or two.