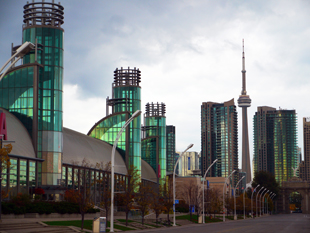 The controversial Domestic Content Requirements provisions in Ontario's Feed-In-Tariff (FIT) generated more Solar PV industry activity and intrigue this past week. New announcements from a variety of industry players have added to the controversy generated by the Japanese Government's recent unfair trade practices complaint to the WTO.  
Two separate press releases provided further illumination on a spectrum of issues related to the Domestic Content Requirements. Ontario's Green Energy Act is becoming a case study on how Government Policy can dramatically influence competitive behavior and even undermine its own intentions.  
New Polysilicon Capacity  
With new Ontario module plant commitments being announced regularly, on Tuesday Suntech and Calisolar announced a new twist. The world's largest module producer has agreed to help construct a new Ontario-based polysilicon purification capacity.  
Calisolar, through its wholly-owned 6N Silicon subsidiary, was the largest Ontario-based manufacturer in the PV value chain prior to the launch of the Ontario's Feed-In-Tariff program. The company had received considerable support at the Provincial and Federal level, including $8m from Ontario's Next Generation of Jobs Fund.  
In the aftermath of the industry's recent extreme polysilicon shortages, new polysilicon capacity announcements had been heralded across the PV value chain.  
The Solar PV industry has long been seeking a viable alternative to semiconductor grade polysilicon. Thus, this announcement should represent fundamentally welcome news for the industry. Earlier this year, researchers at the highly respected ISC Konstanz had reported comparable performance between the Calisolar/6N product and semiconductor grade material utilizing standard production equipment.  
In the Press Release, Suntech indicated that it was looking to Ontario polysilicon to meet Domestic Content requirements for its products. According to Suntech, this represents "the best opportunity to create long-term sustainable jobs given the product's export viability." Hard to argue with export competitiveness as a path to sustainable jobs.  
Zero Sum Game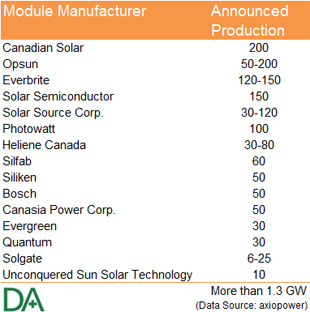 Ontario's Domestic Content Requirements have artificially constrained the Ontario PV market and created a zero-sum game for different levels of the PV value chain.  
The structure of the Ontario Domestic Content provisions allows locally produced polysilicon to be utilized instead of either inverters or modules in order to meet the 60% threshold levels. Two of the three are required. There is no bonus provision for including all three and exceeding the requirements.  
For an opportunity to participate in an uncertain market, PV module producers have been required to invest heavily up-front in local manufacturing capacity. Over the past few months more than fifteen module companies have announced plans to build new Ontario capacity. The collective announcements represent roughly a gigawatt of annual production capacity. 
According to market size estimates from ClearSky Advisors, however, it is not clear that the Ontario market will be able to support all of the module factory capacity that has already been announced. 
Supply is expected to lag demand through 2012. Even though the market analysts have heavily discounted the manufacturers capacity announcements, a large oversupply situation is expected emerge thereafter.  
Following the laws of supply and demand, the initially constrained supply should result in Ontario produced modules priced higher than market.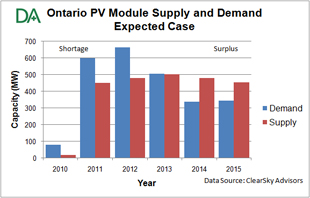 The oversupply situation expected in 2013, however, could threaten newly created Ontario green economy jobs. As the Ontario market demand is artificially constrained due to Transmission constraints and FIT approval mechanisms, lower pricing will not generate additional demand to absorb the manufacturing capacity.  
To preserve the new jobs, the FIT program will need to adapt.  
Domestic Content Reduces Economic Benefit  
Concerns over Domestic Content, as well as the competition between different levels in the value chain, were underscored by a Press Release on Wednesday from a consortium of domestic and international PV manufacturers. This consortium reported the results of an independent study that concluded greater economic benefit and more jobs could be created in Ontario without Domestic Content provisions.  
Notably, this broad consortium included another Canadian manufacturer of polysilicon as well as an Ontario-based inverter manufacturer. Apparently there are even local concerns with the Domestic Content requirements.  
Stay tuned. This dynamic situation promises to become even more interesting.